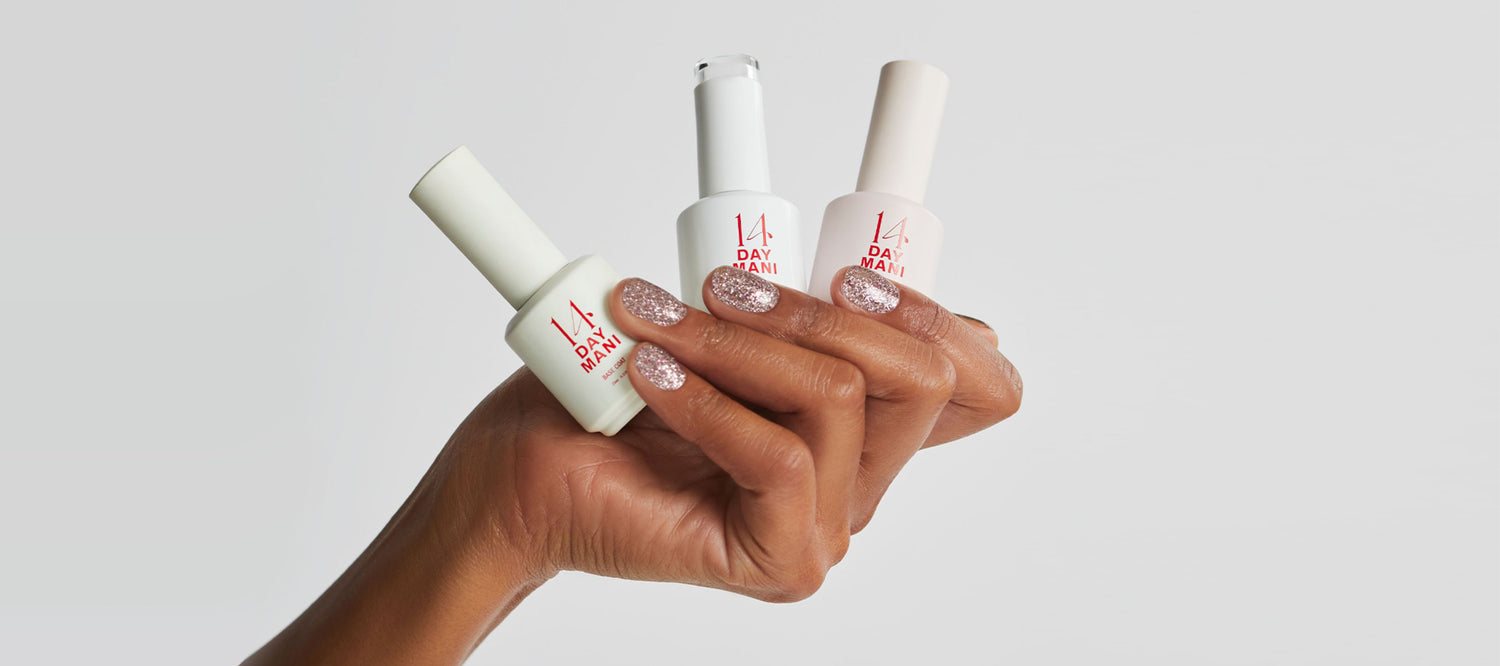 Frequently Asked Questions
Ingredients
I WANT A PROFESSIONAL QUALITY GEL MANI, BUT FIND SALONS TOO EXPENSIVE. IS THE AT-HOME OPTION QUITE COMPLICATED/SAFE? 

Much like dying your hair at home, 14 Day Mani was founded on the basis of providing an alternative solution to expensive salon treatments. With the rising cost of living, we are now even more aware people don't want to compromise on looking and feeling good. Our at home kits are designed to give you the option. As nail applications can take practice to get right and to ensure you do it correctly and safely, we have created expert guides and videos to provide you with all the tools you need,with minimal risk.

You will find our application and removal guides here: https://14daymanicure.co.uk/pages/application_guides

We also have an in-house expert team on hand to guide you through any questions you might have, so you can always get in touch with us at info@14daymani.com
WHAT ARE ACRYLATES AND CAN THEY CAUSE A REACTION?

In simple terms, Acrylates such as HEMA and Methyl Acrylate are a group of chemicals used to bond gel polish, so will be found across all gel nail polishes.There has been recent reports that Acrylates such as HEMA in high levels (over 35%) can cause skin irritation, but in most cases, people will never develop any allergy to Acrylates. However, the risks of any irritation or reaction increase when the wrong application practice takes place. As is this case with any topical cosmetic or skincare product, if you experience any reaction or irritation, stop using the product. Professor Catriona Ryan, Dermatologist said to 14 Day Mani "Allergic contact dermatitis to acrylates is very rare- I have only seen one case of allergic contact dermatitis to gel nails, once in my career " 
ARE YOUR PRODUCTS HEMA FREE? 

HEMA is a widely used Acrylate in gel polishes. Currently our products contain on average 17% HEMA, which is below the recommended upper limit of 35% (to avoid any irritation or reaction). Our professionally written application guides ensure safe application, and following these carefully is key. Always remember to remove excess gel polish from the skin before curing. 

Gel polishes with HEMA and other Acrylates will continue to be widely used, particularly in salons, but we've been working with industry experts to ensure our products will be 100% Hema free by the start of 2024. Our non HEMA polishes will launch Q.4 2023 for those who wish to have HEMA free.
CAN YOUR GEL POLISHES HARM MY NAILS?

Damage to your nails would only occur through misuse of tools or not adhering to our step-by-step application guides. It is particularly important to follow the recommended curing times and to remove your gel polish correctly and as instructed. If you do experience any reaction irritation, discontinue use. If you are unsure if you are getting your application right at home,you can always bring our nail polishes in your local salon for professional application if you wish.
WHERE ARE YOUR PRODUCTS MADE?

We proudly make the majority of our products in China and Korea, with some of the industries leading nail innovators. Contrary to reports, China is one of the most popular places to manufacture high quality nail polish and some of the biggest nail brands and household names produce here (we know who, but we cant say!). Labelling China a bad place to manufacture is simply not accurate or fair. It's about the vetting process of working with suppliers and outside cosmetic regulators to ensure the products are high quality, meet correct trading standards and most of all perform as you expect them to.

*Note: Cosmetics made in China are not required to be tested on animals. Only cosmetics that are imported and sold in physical stores in mainland China are required to be tested on animals according to China's animal testing laws. 14 Day Mani is certified Cruelty Free.
WHY DO YOU SAY 'FOR PROFESSIONAL USE ONLY'?

If a gel nail polish contains HEMA it is required by regulation to be labelled 'for Professional use only'. This is why we provide training videos by nail tech professionals to show you how to correctly apply and avoid any irritation.
UV/LED LAMPS
ARE UV LAMPS SAFE?

The most important step when applying gel nail polish is to ensure the product is correctly cured (or set), by using a UV OR LED/UV lamp that is over 34W and of course to always follow the manufacturer's step-by-step professional  instructions. 14 Day Manicures LED/UV lamp has a 36w UV(for a combined 54w), so it is at a professional level for safe use. 

When it comes to using the UV OR LED/UV  lamp itself, it's important to remember quite how brief a time your hands are spending under the light, during the application process. Recent studies on the impact of UV exposure via nail lamps were based on daily exposure of 20 minutes - that's over 3000x more than you spend when actually applying gel polish (usually just 30-60 seconds per layer, so 2-4 minutes per manicure). UV and LED lamps are accredited as low risk. 

While you in fact get more UV exposure simply walking around outside every day, a simple way to add a strong layer of protection is to apply a good quality, high factor SPF ahead of doing your nails (just avoid the nail bed itself); daily use of SPF is now advised to everyone whether they're gel polish users or not!
WHAT'S THE DIFFERENCE BETWEEN LED AND UV LAMPS?

Both LED and UV lamps are designed to cure your gel polish quickly and effectively for a chip-free and long lasting mani. Contrary to common misconception, both LED and UV nail lamps emit UV wavelengths and work in very much the same way. 

The key difference is that UV lamps emit a broader spectrum of wavelengths, while LED lamps emit a narrower and more targeted number of wavelengths, which accelerates the drying process. LED lamps also don't require you to change bulbs. 

The 14 Day Mani lamp has been designed to be a hybrid UV LED lamp, which means it is more cost effective than the standalone and more expensive LED lamps, but most importantly it allows for faster drying time, meaning less time spent under the lamp.  It also eradicates the need to change the bulb.
WHAT LAMP IS RECOMMENDED FOR YOUR GEL POLISHES?

We recommend only using the 14 Day Mani lamps as they are designed to be used with our products. In the rare case of an allergic reaction, this can be caused by the skin being in contact with uncured gel, rather than the product itself. Therefore it is extremely important to use the correct lamp to make sure the gel is cured properly.
I PREFER TO GO TO THE SALON FOR MY GEL MANI - CAN I STILL USE 14 DAY MANI?

Absolutely! Our professional-grade range of gel polishes are widely used by nail techs themselves. Simply bring your shades of choice (along with base and top coat) to your salon and ask your nail professional to apply them for you. It also means you don't have to worry about sharing your shade with anyone else!
Shipping & Returns
WHAT IS THE DELIVERY TIME?

We aim to ship next day if orders are placed before 3pm Mon-Fri. Please allow up to 3-4 working days during busy periods. As soon as your order is completed you will receive an email confirmation and your order will be on its way to its new home.
HOW MUCH DOES SHIPPING COST?

Our standard shipping rates is €5.99 flat rate or FREE on orders over €80 (Ireland only).

We also offer delivery to most of Europe (including FREE Delivery) - for more info about International Delivery, check out our Shipping page.
WHAT IS YOUR RETURNS POLICY?

If you are not completely satisfied with your 14 DAY MANICURE purchase for any reason, we will happily accept a return within 30 days of receipt and issue a refund to your original payment method, excluding shipping and handling. Products must be returned in new condition. Please email info@14daymanicure.ie prior to shipping and use our Irish address linked here
DO YOU SHIP OUTSIDE IRELAND AND THE UK?

We ship to almost everywhere in Europe! Unfortunately Jersey and some other areas are currently not available but we're working on it.
Gel Application
HOW LONG DOES GEL POLISH LAST?

When applied properly, 14 Day Mani Gel Polish last up to 3 weeks with no chipping or lifting! Watch our step-by-step tutorial here to help avoid lifting and help longevity for up to 3-4 weeks.
HOW DO I REMOVE GEL POLISH?

Check out our Application Guides page to watch our safe methods for removing you gel polish. We know its tempting, but don't pick!
HOW MANY COATS OF COLOUR DO I NEED TO APPLY?

We recommend one to two coats polish depending on the colour. Some sheer shades may need three coats.
HOW MUCH TIME DOES IT TAKE FOR CURING?

We recommend curing your 14 Day Mani gel polish for 30 seconds or each coat and 60 seconds for the final top coat using our 54W UV/LED Lamp
WHAT IS BEST WAY TO STORE GEL POLISH?

We recommend you store 14 Day Mani gel polish in a dry, cool area. Gel polish is heat and light sensitive, so if it's exposed to high temperatures there is a possibility that your gel polish could get clumsy and cure in the bottle. Top Tip: Always be sure to place your gel polish, base or top coat behind your UV/LED lamp when applying your polishes, this can cause it to cure within the bottle.
Orders
HOW DO I KNOW IF MY ORDER WAS PLACED?

Once your order has been placed you will receive a confirmation email that your email is 'processing". This means we're preparing your fabulous order! Once we have completed your order, a confirmation email will be sent to the email address associated with your account which indicates your order is on its way to you.

Please note: If you're paying with PayPal, it will be sent to the email address associated with your PayPal account, which may be different.
CAN I MODIFY AN ORDER AFTER IT'S BEEN PLACED?

If you contact us 15 minutes after the order has been placed we will do our best to amend any shipment details for you. Contact us on info@14daymanicure.ie
CAN I CANCEL MY ORDER

If you placed your order within 24 hours and you would like to cancel it, please contact us by calling 083-8744253 OR 083-3842260 or by email at info@14daymanicure.ie.

Unfortunately, we are unable to cancel any orders after 24 hours.
HOW DO I USE MY VOUCHER OR GIFT CARD?

If you've received an e-gift card you will see a long code next to your receipt on your email. You can use this code at the checkout to receive money off your chosen products - lucky you!